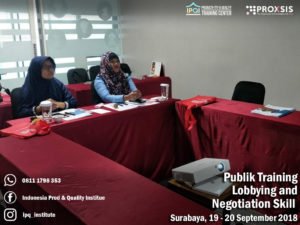 Salah satu tugas penting manajer adalah mencapai kesepakatan dengan berbagai pemegang kepentingan (stake holder) yang terkait dengannya, khususnya pihak2 di luar organisasi. Baik dalam kaitan dengan penjualan, perijinan ataupun kesepakatan2 bisnis lainnya.
Untuk dapat mengoptimalkan posisi Perusahaan di dalam transaksi tersebut, maka tidak cukup seorang manajer hanya mempersiapkan diri di dalam proses formal nya (negosiasi), ia juga perlu menguasai prinsip2 dan ketrampilan dalam melakukan lobbying. Sehingga proses transaksi dapat diarahkan se awal mungkin.
Workshop ini memberian wawasan, prinsip – prinsip dasar dan ketrampilan utama dalam melakukan lobi dan negosiasi. Walaupun materi yang diberikan cukup padat, namun tetap disediakan cukup kesempatan untuk role playing agar peserta dapat merasakan aplikasi dari berbagai konsep yang didiskusikan.
Banyak pekerjaan terhambat atau terjadi konflik karena kurang baiknya kemampuan melakukan negosiasi. Karyawan diharapkan memiliki kemampuan untuk berkomunikasi secara baik dan mampu melakukan negosiasi apabila ia bertentangan pendapat, pikiran dan keinginan dengan orang lain. Untuk itu perlu dirancang suatu pelatihan untuk para karyawan yang banyak melayani sehingga karyawan dapat bekerja secara efektif.
IPQI Learning Center member of Proxsis telah menyelenggarakan Public Training Lobbying and Negotiation Skill 12-13 September 2018 berlokasi di AMG Tower Surabaya by IPQI Learning Center.