Total Productive Maintenance didefinisikan sebagai konsep perbaikan berkelanjutan yang melibatkan seluruh karyawan untuk meningkatkan perawatan mesin, peralatan, dan meningkatkan produktivitas. Indikator kesuksesan TPM di ukur oleh OEE (Overall Equipment Effectiveness) dimana ukuran kinerja ini mencakup ke berbagai macam kerugian (losses) seperti downtime, changeover, speed loss, idle mesin, stoppages, startup, defect, dan rework. Berikut detail training Total Productive Maintenance Makassar.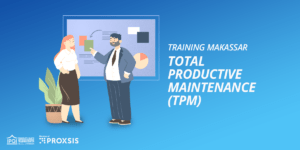 Konsep Total Productive Maintenance sendiri memiliki 5S sebagai pondasinya dan ada 8 pilar utamanya.
Pilar utamanya yaitu Autonomous Maintenance (Jishu Hozen), Planned Maintenance, Focused Improvement (Kobetsu), Quality Maintenance, Initial Control, Training, dan Total Productive Maintenance – Office.
Planned Maintenance sendiri mencakup Breakdown Maintenance, Preventive Maintenance, dan Improvement Maintenance. Sedangkan Initial Control berfokus untuk mengendalikan maintenance cost mulai dari pembelian, mesin kualifikasi, sampai mesin di scrap. Focused Improvement merupakan tumpuan improvement yang focus pada suatu masalah tertentu yang dilakukan oleh kelompok. Quality Maintenance menciptakan mesin yang menghasilkan output bebas defect. TPM office menganalogikan alat administrasi di office seperti mesin.
Siapa yang harus ikut:
Manajer, supervisor produksi atau proses, operator, karyawan 
From PM to TPM
TPM Foundation
6 Big Loses
Five Pillars of TPM
6S implementation
Visual Display
Day-2
TPM Measurement
Basic Equipment Care
TPM Champion Team
KAIZEN activities
5 why – Root cause analysis
TPM Program
Metode Pelatihan
Pelatihan ini membutuhkan interaksi yang cukup tinggi agar setiap materi dapat langsung menjadi bahan diskusi.
Dialog Interaktif / Sharing
Diskusi Grup
Latihan di Kelas
Studi Kasus
Durasi pelatihan: 2 hari
Lokasi pelatihan: Makassar
IPQI TRAINING CENTER
AMG Tower Lantai 17, Jl. Dukuh Menanggal 1A B05 Gayungan, Surabaya.
CONTACT PERSON
For Brochure Request, Form Registration and More Information
Dewi Sulistiana
Hotline : 085755028997
Whatsapp : http://bit.ly/Info-Training
Email : [email protected]